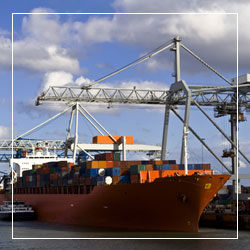 Definition of Non-Vessel Operating Common Carrier: Smaller shippers, with less-than-containerload (LCL) shipments, can take advantage of the lower costs associated with being a big shipper. Non-vessel operating common carriers (NVOCCs) book space on steamships in large quantities at lower rates and sell space to shippers in smaller amounts. NVOCCs consolidate small shipments into containerloads that move under one bill of lading. More favorable rates are passed on to the shipper. Services typically offered by NVOCCs, in addition to customary services provided by freight forwarders, are:
Consolidation of freight, and
Financial liability for goods due to loss or damage during transport.
NVOCCs operate as carriers and should be evaluated by applying the same service, price, and delivery standards.