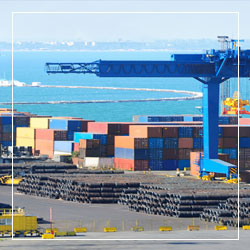 US Customs Brokerage: An intermediary firm between customs officials and shippers and/or importers to manage the flow of required documentation and inspections of shipments. Inter-Cargo CHB, Inc. offers complete U.S. Custom Brokerage Services.

Customs Brokerage services. Shipments entering the United States from Latin America and the Caribbean are on the rise due to the size and strength of the U.S. economy and the strength of the U.S. dollar in relation to Latin American and Caribbean currencies. Shipping to the USA can be very complicated and intimidating to local importers and foreign shippers.

Our customs experts can provide the full range of services necessary in preparing you for shipping into the USA and can clearly explain the procedures that must be followed.
Our Brokerage Service is licensed by the United States Customs Service. This allows us to act on your behalf, (upon receipt of a signed Power of Attorney), with the various U.S. Government Services and Agencies.
Inter-Cargo provides the following Customs Brokerage services: